Apple has released two different models of their iPhone 6s handsets. The iPhone 6s and 6s Plus share a lot of the same features such as 3D Touch, Live Photos and 4K video recording, but there are a few slight differences.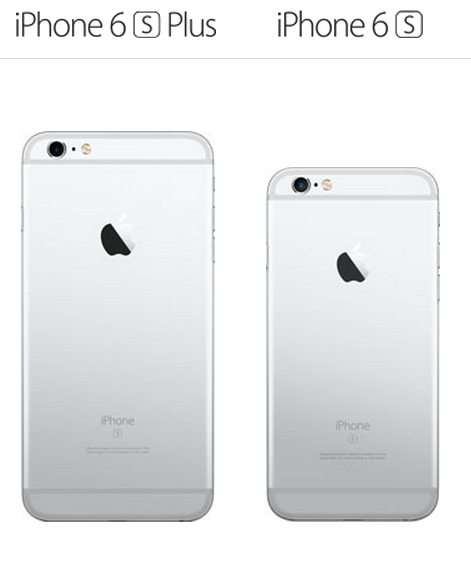 Display
The iPhone 6s is equipped with a 4.7-inch (diagonal) Retina HD display with 1334-by-750-pixel resolution at 326 ppi, and the iPhone 6s Plus sports a 5.5-inch 1920-by-1080-pixel resolution at 401 ppi Retina HD display. Both phones feature IPS technology and Taptic Engine.
Weight and Dimensions
The iPhone 6s is 5.04 ounces (143 grams) and 5.44 inches (138.3 mm) tall, while the iPhone 6s Plus weighs in at 6.77 ounces (192 grams) 6.23 inches (158.2 mm).
Camera
Both models feature the same 12-megapixel iSight camera but the iPhone 6s Plus includes optical image stabilization for both photos and video, and the iPhone 6s does not.
Battery Life
The iPhone 6s Plus offers 10 more hours of talk time than the iPhones 6s, and 2 more hours of web surfing and video playback.