Wi-Fi calling is a service that allows phone calls and text messages to be routed through Wi-Fi networks instead of cellular networks. Though it made its debut on the iPhone with iOS 8, some carriers have been slower than others in supporting it, and many consumers are only vaguely aware of it, if at all. If you have an iPhone with Wi-Fi calling capability and a carrier that supports it, it would behoove you to turn it on for a number of reasons.
The most obvious reason to take advantage of Wi-Fi calling is that it will allow you to make and receive calls and messages when your cellular connection is weak or unavailable. For instance, if you work in the center of a building or live in the middle of nowhere where reception is spotty, you will be able to make calls with just a Wi-Fi connection. Furthermore, a strong Wi-Fi connection will likely provide much higher quality audio than a cellular connection. Another big advantage, especially if you have limited minutes and data, is that Wi-Fi calls and messages are most likely free within the U.S., Puerto Rico and Virgin Islands, and won't count against your minutes or data allowance, though this depends on your carrier.
There are not really any downsides to having Wi-Fi calling on, it will be employed automatically when cellular signal is weak or non-existent, and it can seamlessly transfer between cellular and Wi-Fi if needed (this also depends on your carrier). The data you use will count toward your Wi-Fi data (if you are using your own Wi-Fi that you pay for, or if you have paid for a certain amount of data at, say, an airport), so that may come into play if you have limited data. A typical voice call uses a little over 1MB per minute.
To use Wi-Fi calling on your iPhone, first off you must have an iPhone 5c or newer (5s, iPhone 6, 6 Plus, 6s, 6s Plus). The required iOS will depend on your carrier. To enable the service:
1. Head to Settings -> Phone.
2. Under the Calls section, tap Wi-Fi Calling.
3. Toggle Wi-Fi Calling on This Phone to on.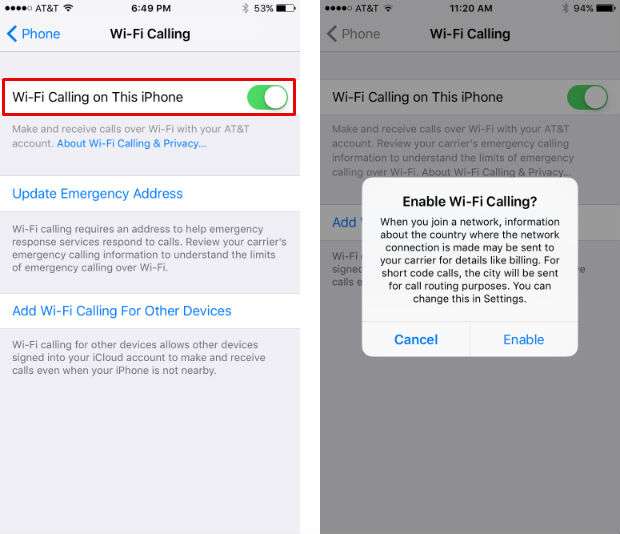 4. At this point you may be prompted to update your emergency address so it can be sent to emergency responders. Be sure to read your carrier's Wi-Fi calling information to be aware of any limitations in regards to emergency or other ADC (Abbreviated Dialing Code) calls.
That's all there is to turning on Wi-Fi calling. You can test it by putting your phone in Airplane Mode and turning on Wi-Fi. Your carrier icon in the top left of your screen should indicate that Wi-Fi calling is on.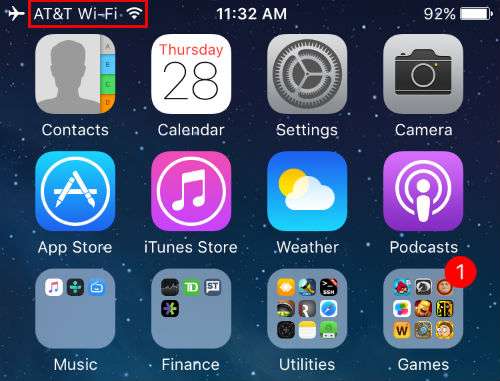 Many details of the Wi-Fi calling feature are carrier dependent, so with that in mind, here are some items of note from each:
AT&T
AT&T currently supports Wi-Fi calling on iPhone 6, 6 Plus, 6s and 6s Plus on iOS 9.
Wi-Fi calling is available only in the U.S., Puerto Rico and U.S. Virgin Islands.
Domestic voice calls are free (international rates will apply to international calls) and won't count against your minutes, but messages will be charged under your existing rate plan and count against any limit you may have.
For more information, see AT&T's Wi-Fi calling page.
Verizon
Unfortunately Verizon is a bit behind the curve when it comes to Wi-Fi calling. The provider currently only supports the service on Samsung Galaxy S6 phones, but we expect iPhones will be added sooner rather than later.
See Verizon's Wi-Fi calling page for more info.
Sprint
Sprint came on board with iOS 8.3. The carrier supports the iPhone 5c, 5s, 6, 6 Plus, 6s and 6s Plus running iOS 8.3 or better.
Wi-Fi calling is available for free in the U.S., Puerto Rico and the U.S. Virgin Islands, but is also available in many other countries.
Unfortunately, messaging still requires the Sprint Nationwide Network and therefore will not work in Wi-Fi only settings.
For further details see Sprint's Wi-Fi calling page.
T-Mobile
T-Mobile supports Wi-Fi calling on the iPhone 5c and later.
Outgoing Wi-Fi calls will count against your minutes under the company's Simple Choice Plans.
All messaging within the U.S. is free.
For more information see T-Mobile's Wi-Fi calling page.
If you are outside of the U.S., there are a number of carriers that support Wi-Fi calling on the iPhone:
Canada: Bell, Rogers
Hong Kong: 3, SmarTone
Saudi Arabia: Zain
Switzerland: SALT, Swisscom
United Kingdom: EE, Vodafone