How do I block adult content on my child's website?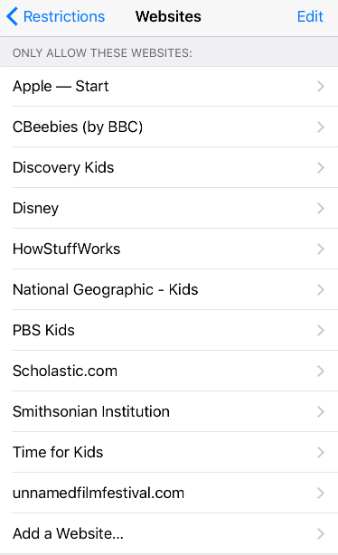 Here's how to limit adult content or only allow access to specific websites on your mobile browser:
Open the Settings app on the device you want to restrict.
Navigate to General > Restrictions.
Enter or create a four digit passcode only you will know.
Scroll down to the "Allowed Content" section.
Tap Websites
Choose "Limit Adult Content" or "Specific Websites Only".
The "Limit Adult Content" option will block all websites with adult content on any browser installed on the restricted device. This includes Safari, Google Chrome and other third-party browsers.
The "Specific Websites Only" otpion limits access to the websites listed in the image posted above. You can add additional websites by tapping the "Add a Website" panel at the bottom of the list. Just enter the name and URL of the website you want to allow and you will be able to access it from the restricted device. You can also bypass any website block from your browser by tapping the blue "Allow Website" link and entering your Restrictions passcode.