Submitted by Thomas Estilow on
The name of the product is appropriate. Joby's latest Gorillamobile flexible tripod is designed to bend around anything, making your iPhone into a hands-free device instantly. With 24 individual 360 degree leg joints, flexible could be an understatement.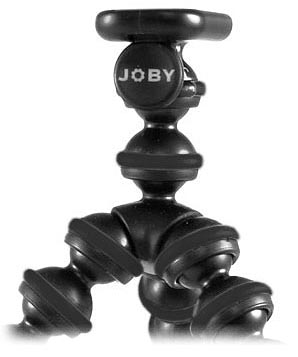 The legs can be straightened to form a normal miniature tripod. What the leg joints make possible are a wide range of positions that are capable of attaching your iPhone to a bike handlebar or a signpost. Just wrap the legs around it and Gorillamobile will hold in place with rubber pads.
A soft case for the iPhone that quickly clips on and off of the tripod comes with the product. The package also includes two removable adhesive clips, a suction cup clip and a universal camera adapter (standard 1/4 inch tripod screw mount).
Gorillamobile is almost six inches tall when extended and weighs only 1.6 oz. A lock ring on the device insures that the iPhone is securely attached to the tripod no matter how it's flexed.
The iPhone 3G/3GS version of Gorillamobile is $39.95. An older version of the product, marketed for the original iPhone and other mobile devices is ten bucks cheaper. At least the new one looks slicker in its new color: all black.