Submitted by Thomas Estilow on
Gained a few pounds over the holiday season? Your iPhone could help you shed some weight next year after you've made the annual New Year's resolutions.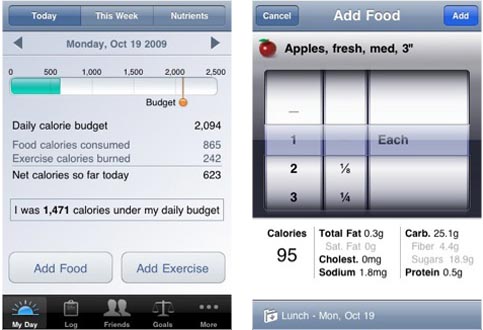 Lose It! tracks calorie consumption, nutrition and progress towards your weight goals all in one handy, free iPhone application. There's even a feature where you can connect with friends for support and motivation.
You start by entering your stats such as gender and current weight. The app will set up calorie budgets automatically based on how many pounds per week you're interested in losing (up to two).
Foods you consume are chosen from a database that includes nutrition and calorie information. Your daily calorie budget and weekly information is displayed in graphs within the app. All of your progress and stats can be backed up online and exported for analysis.
Lose It! makes it possible to use your iPhone to:
- Set goals and establish a daily calorie budget
- Stay on track each day by recording your food and exercise
- Enter food and exercise easily using a searchable database
- Join together with friends for additional support and motivation
- Monitor your progress with detailed reports and metrics
Get your copy this New Year... Lose it! has been downloaded over three million times.