Submitted by Anders Batten on
Gadget blogs have exploded today with what seems like countless articles chastising Amazon.com for baiting customers with their Google ads that read "iPhone 5 at Amazon.com". If the ads are still running, and you'd like to see for yourself, simply search for "iphone 5" in Google or even "iphone five". Up will pop a Google Adwords advertisement similar to the one seen below, proclaiming the availability of the iPhone 5 at Amazon.com. Of course, clicking on the ad will take you to a search page on Amazon.com that simply shows results for a variety of iPhone related accessories that may or may not also have the word "five" somewhere in their descriptions. This type of crack investigation has led many to scold Amazon for stooping to such underhanded bait and switch advertising. Closer inspection suggests these ads likely aren't the doing of Amazon itself.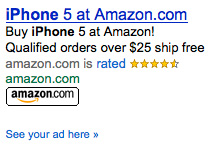 One might ask themselves why multi-billion dollar retailer Amazon.com would risk offending multi-billion dollar manufacturer Apple in order to hopefully grab a few $12 accessory sales on the sly by baiting customers to their site. The likely, and seemingly valid, answer is that they wouldn't.