Submitted by Marshall Walker on
Apple has announced the 2012 Design Award Winners. The award recognizes the best in iOS and Mac app design. This year's winners were announced one day after Apple's WWDC keynote on the Apple developer page. It reads:
"Every year, Apple Design Award winners set new standards that inspire us all.
See how this year's winners stood out from the rest."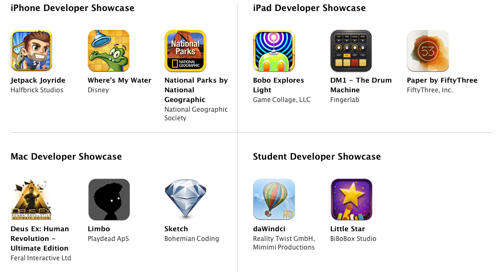 iPhone winners: Jetpack Joyride by Halfbrick Studios, Where's My Water by Disney and National Parks by National Geographic Society.
iPad winners: Bobo Explores Light by Game Collage, DM1 - The Drum Machine by Fingerlab and Paper by FiftyThree.
Mac winners: Deus Ex: Human Revolution - Ultimate Edition by Feral Interactive Ltd, Limbo by Playdead ApS, and Sketch by Bohemian Coding.
Student design winners: daWindci by Reality Twist GmbH, Mimimi Productions and Little Star by BiBoBox Studio.