Submitted by Sammy Snyder on
Lady Gaga has announced the official release date for her new app-album. The album entitled ARTPOP, will be released as an iPad, iPhone and computer application on November 11. Gaga describes it as "a musical and visual engineering system that combines art, fashion, and technology with a new interactive worldwide community."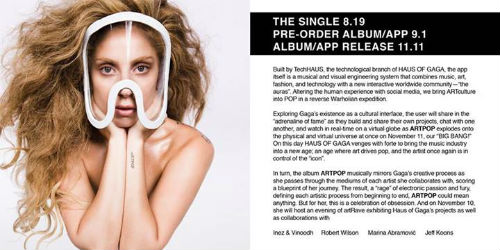 This is the first major app/album release since Bjork's Biophilia was released for iOS devices in 2011. The app was designed by Gaga's development team TechHaus, and aims to bring back the album experience by blending fashion and art with music. The launch of the album will be preceded by an "artRAVE", with collaborations from a number of famous artists including Robert Wilson, conceptual sculptor Jeff Koons and performance artist Marina Abramovic. Gaga will also release a new single from the album on August 19.