Submitted by Thomas Estilow on
One of the top complaints about the iPhone is the lack of cut and paste functionality. Now those who have jailbroken their devices can fix this problem with a new app called Clippy. Any user-editable text can be selected and copied to a clipboard, then pasted into another application.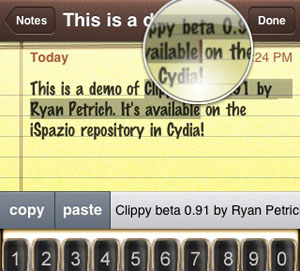 This beta version by Ryan Petrich is easily accessible using the number keyboard. After pressing the "123" button simply hit the "copy" button. Proceed to select the text you wish to copy with the magnifying glass (selected text will be highlighted). Hit "copy" again to copy the text to the clipboard. Move to the application you'd like to paste the text into and click "paste". It's that simple.