Submitted by Marshall Walker on
There are a lot of free iPhone / iPod apps that offer Halloween sound effects, but most of these are not great options when it comes to Halloween themed music for parties or haunted houses. You can of course download plenty of Halloween music albums from iTunes for around $10 and up, or pay $0.99 for the popular Halloween music app for the iPhone and iPad. The Halloween app by Eugene Yu offers a Halloween countdown, creepy sound clips, scary stories, Halloween themed recipes and spooky background music.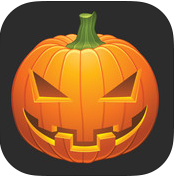 You can also use the free "Halloween Party" station on Pandora, or any of the several "Halloween" themed channels on Spotify if you're prefer music over spooky noises and sound effects.