Submitted by Marshall Walker on
There are a lot of free iPhone / iPod apps that offer Halloween sound effects, but most of these are not great options when it comes to Halloween themed music for parties or haunted houses. You can of course download plenty of Halloween music albums from iTunes for around $10 and up, or pay $0.99 for the popular Halloween music app for the iPhone and iPad. The Halloween app by Eugene Yu offers a Halloween countdown, creepy sound clips, scary stories, Halloween themed recipes and spooky background music.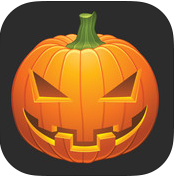 You can also use the free "Halloween Party" station on Pandora, or any of the several "Halloween" themed channels on Spotify if you're prefer music over spooky noises and sound effects.
Unfortunately there are not a lot of options besides music streaming services or iTunes when it comes to Halloween music for iOS devices. The free app Amazing Scary Sounds & Ringtones includes over 20 different Halloween songs and clips, and iHalloween features four background music options plus sound effects. But these are only useful if you don't care about quality and need something in a pinch.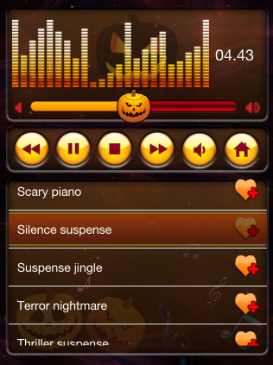 Halloween Scream - Scary Halloween Sounds Lite seems like the best option if you're looking for a few creepy noises that play on a loop. The free version of the app has 19 different options that are perfect for haunted houses, Halloween parties, or to spruce up your house on Halloween night. If you're planning a lot Halloween activities that require sound effects this year, the full version of the app promises 200 different themes for only $0.99.
There are plenty of options when it comes to free one push sound effect creators such as
Halloween Sounds Pro
and
Halloween Spooky Sound Box
.
Sounds Pro
does offer one "Spooky Soundtrack that could pass as decent Halloween background music for a few hours. You can find a lot of free sound effect apps by searching for "Halloween sounds" on your device.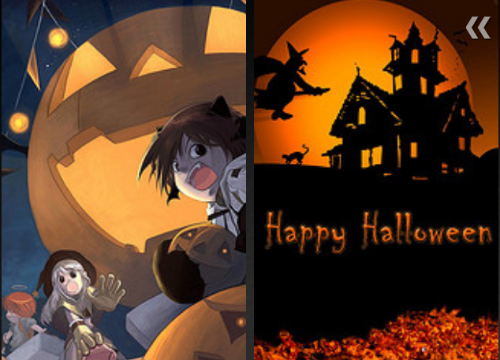 If you're looking for a way to spruce up your iPhone or iPad with a Halloween-look this year, you may want to try Halloween Wallpapers HQ. The app includes tons of high quality HD images that you can download for free as wallpaper.