Submitted by Marshall Walker on
I don't enjoy games that require I wait 15-minutes to an hour to watch a plant grow, or to build a building. Thankfully there are no long periods of twiddling your thumbs in Double Fine Productions' Middle Manager of Justice building/strategy game. Actions only take a few seconds or minutes, and there is plenty to do to keep you busy.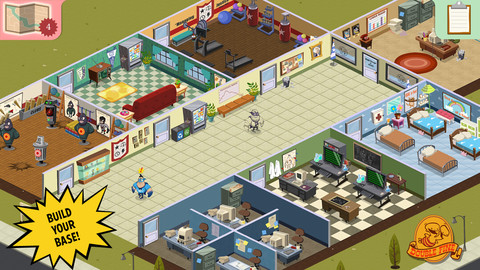 Middle Manager puts you in charge of Justice Corp., a kind of superhero temp agency that has seen better days. You must recruit and train employees while rebuilding your headquarters and saving various cities. The goal of the game is to make well-rounded (Tip: Don't ignore training intelligence, it does come in handy) superheroes while supplying them with the best tools and work space to get the job done. The fun story lines, goofy characters and the ability to complete many actions quickly helps Middle Manager avoid being another snoozefest simulation-type game.
Some actions can take longer (15-minutes is the longest I've encountered so far) as you advance in the game, however, you should have at least four heros by that time, and can complete multiple actions while one hero learns a new ability. And of course, there are in-app purchases for "Superium", which can be used to speed up the game.
Middle Manager of Justice is free to download from the Apple App Store. It's compatible with the iPhone and iPad and is optimized for the iPhone 5. It requires iOS 5.0 or later.