Submitted by Marshall Walker on
If you're like me and ignore all app updates, or delete games if they're not updated every 20 seconds, you'll want to check your Middle Manager of Justice app. The new game from Double Fine Productions has received its first and much needed update. Version 1.1.0 brings a Valentine's Day mystery that you must solve in 29 days, new items to buy (Grass-fed Yak!) and a new mystery hero. The new version also fixes a few bugs, adds some new villains and achievements, and offers better iCloud support.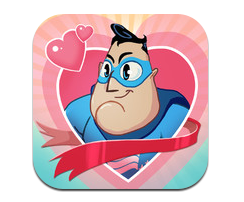 I wish the update brought more customization for your office building, and more costumes, but I'll take this for now. Hopefully the Double Fine Productions team has many more updates planned for the future.
If you have not played MMOJ, it's a fun and addictive free building/strategy game. Unlike a lot of building games, MMOJ offers a lot of different tasks, so you're not stuck waiting around with nothing to do. It also features an interesting story, fun adventures, and great characters with awesome animation. The game is new, so there is a lot of room for improvement, added upgrades, more characters and more achievements in the future.
Middle Manager of Justice if free to download from the App Store.