Submitted by Thomas Estilow on
Looking to upgrade to 3G but not sure what to do with your old iPhone? NextWorth offers a trade-in service or will buy your used Apple hardware for cash. The company inspects all incoming late model iPhones and iPods before cutting a check then offering the item for sale. Not only does this satisfy the demand for older generation iPhones, it allows owners to recoup value from their old phone while keeping used devices out of the waste stream.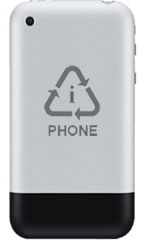 True, one may fetch a higher price in an online auction, especially if the used iPhone is unlocked. NextWorth simplifies the process for those who don't have the time or inclination to deal with unknown bidders and shipping hassles. Prices offered depend on market conditions, however at the time of this writing a first-generation 8GB iPhone with 'normal wear' is netting $177.10. Almost enough for a brand new 3G.