Submitted by Sammy Snyder on
IGN is giving away free promo codes for Gameloft's Modern Combat 4: Zero Hour as part of their Free Game of the Month promotion. The first-person shooter is normally $6.99 on the App Store.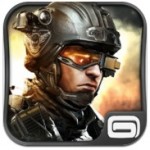 Modern Combat 4: Zero Hour was originally released for iOS devices in December of 2012, and it was met with mostly positive reviews. TouchArcade called it the one of the best online first-person shooters you can play on a mobile device. The game has also been praised for its detailed graphics and gameplay. You can grab a free promo code for the iPhone, iPad or iPod touch here. The game requires iOS 5.0 or later and is rated 17 or older.