Submitted by Bob Bhatnagar on
Running out of space on your iPhone? Now you can store and play music using the mSpot Music app for free. Two GB of space in the cloud stores all of your songs, album art and track titles and streams them to your iPhone over 3G or Wi-Fi. Space can be extended to 40 GB with a $3.99 monthly fee.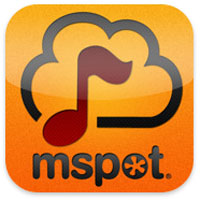 Not only can you stream your music from anywhere with mSpot Music, you can also download specific songs to the iPhone to play when you're not connected to data services (like airplane mode). The mSpot cloud compresses your music, so although quality may be reduced, more songs can be saved on the remote drive.