How do I get the Hawkeye achievement in Kingdom Rush: Frontiers?
This can be a tricky one. The hint says: "Apply one Falconeer bonus to 4 towers." This means you need to upgrade four of your Archer Towers to Crossbow Forts. Each Crossbow Fort needs to be next to another tower of any kind. After all your towers are placed and upgraded, add the Falconeer bonus to each of your four Crossbow Forts. This will give the Crossbow Forts and adjacent towers a purple ring around them. You will unlock the achievement once all eight of your towers have a purple ring.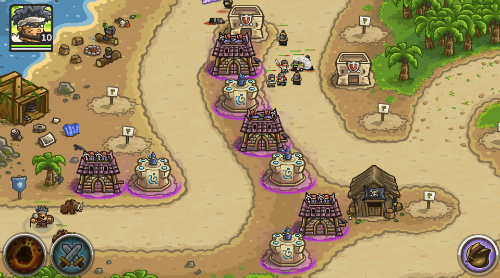 Here's an example: One of the best places to unlock this achievement is level 5 Buccaneer's Den. The same level where you can catch the mermaid. You can see from the picture above, that I used four Crossbow Forts with the Falconeer bonus to boost four Mage Towers. This is how I unlocked the achievement.