Submitted by Bob Bhatnagar on
Foxconn is set to break ground on a new iPhone manufacturing facility that will ultimately crank out 200,000 iPhones daily and employ almost the same number of workers. The factory is shrouded in secrecy, prompting speculation over Apple's long term plans for the facility.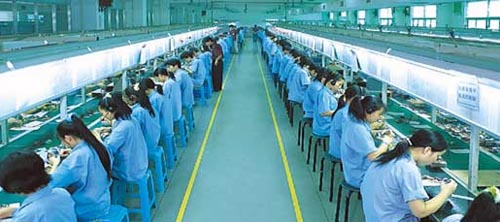 Demand for the iPhone 4 surpassed expectations and has set records for Apple, with a three-week wait for the device still posted on the Apple Store online. Production problems and shortages have hampered the company's efforts to launch the white iPhone 4 until later this year. Talk of a 500-worker rented production line already in operation by Foxconn has let some to believe the new permanent factory could be tooled for something special.
Apple, already known for secrecy in its research and development, has suffered a few setbacks with the iPhone 4. Devices were leaked onto the Internet and antenna problems have plagued some users and caused an uproar of publicity. Reports are now speculating that the Foxconn factory could be an effort to separate CDMA iPhone manufacturing for US cellular carrier Verizon Wireless from the GSM model. A Verizon-specific factory could ramp up production for an iPhone 4 release on the network sometime in 2011.
Another possibility is that Apple has already started redesigning the next-generation iPhone antenna, and plans to manufacture the updated device at this stand alone Foxconn plant. With the white iPhone delay, others are convinced the white model will feature an updated antenna, or possible include a new non-conductive coating over the stainless steel of the antenna rim.
Apple likely has several different prototype models already testing in the field, as the lead time required for regulatory approval and other issues is extensive. These models could include CDMA versions of the iPhone or even next generation network-compatible devices, such as an LTE (or 4G) capable smart phone. LTE networks from Verizon and AT&T with other carriers are expected to come online in late 2011.
With several different production facilities, Foxconn could easily keep Apple's plans under wraps. Considering some of the tumultuous news coming out of Foxconn facilities over the past year, including employee suicides and lost iPhone prototypes, the addition of a $100 million production facility is good news for the company.