Submitted by Bob Bhatnagar on
Engadget reports that Vodafone UK already has the white iPhone 4 in stock. The device has made it into inventory computers and one source even sent photos of the packaging seen below. Apparently some lucky customers were sold the white iPhone 4 ahead of schedule, with the store employees noting the sale as a common black iPhone 4 to fly under the radar.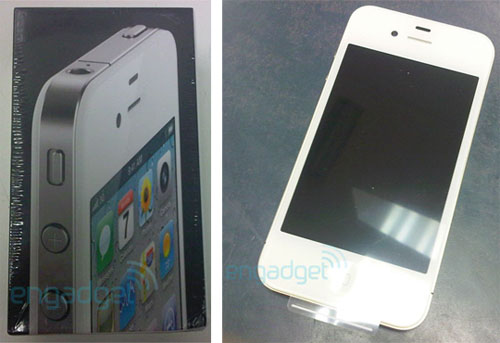 Vodafone told their crew to hold off on selling the highly-anticipated handsets "until next week" according to the report. Is it possible Apple would launch these white models in the UK without giving the US some white iPhone love? After all, retailers stateside have been spotted preparing for the white iPhone for months, and promotional materials have clearly stated the device would launch in spring of this year.
It's entirely possible that stores around the world are already getting shipments of the white models, in 16GB and 32GB variations. Maybe it's just the Brits who can't keep a secret. The photos clearly show what appears to be authentic Apple packaging, and additional shots of the back of the 16GB package indicate a model number of MC604B/A. Engadget explains that this is only one number off from the black UK iPhone 4 16GB model number: MC603B/A. Not only this, but the 32GB black iPhone comes in with model number MC605B/A. Engadget speculates that the white 32GB will have a model number of MC606B/A. For those who aren't paying attention, this makes a sequence of 603, 604, 605 and 606.
Scratch the earlier comment about the Brits not keeping a secret. The Dutch and Norwegians are in on the game, too. MacRumors reports that sources from both Norway and the Netherlands have confirmed the white iPhone 4 will launch on their carriers April 27. This coincides with a report from Bloomberg saying that Apple would launch the white iPhone 4 by the end of April. As it turns out, the 27th is a Wednesday and according to MacRumors Apple tends to release new products in the middle of the week.
So look for the white iPhone 4 next week. Apple has apparently resolved the manufacturing issues that plagued the device from the beginning. We can be sure that the white glass thoroughly matches the white home button plastic and the camera will take proper photos in sunlight. The more pressing concern is the question of whether or not the US is losing its edge on the Apple rumor mill. How is it that the Europeans are first to submit photos of white iPhone 4 packaging? Hard to believe that palettes of these handsets aren't already waiting in the wings at our local Walmart. See you in line next week for the white iPhone 4.