Submitted by Frank Macey on
It's been a long time since we've been able to run a story on the white iPhone 4 without a question mark in the title. Now Bloomberg reports the long-awaited white iPhone 4 will be available by the end of this month. Previous reports have also pointed to an April release, however nobody is counting their chickens before they hatch.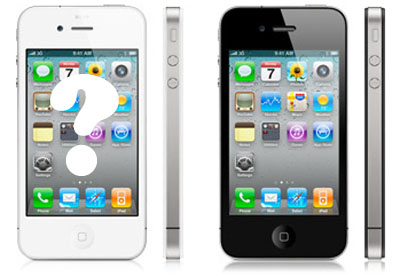 Best Buy leaks pointing to a February 27 white iPhone release have already turned out to be false. Apple continues to stick by its spring 2011 launch schedule although the season officially began on March 20. After a 10-month wait since the iPhone 4 keynote what's a few more weeks?
The late white iPhone 4 release has analysts buzzing about a possible iPhone 5 delay. After all, why launch last year's product in a different color just two or three months ahead of rolling out the newer model? Those who claim to be connected with Apple's supply chain have not seen the kind of ordering and movement that has characterized previous summer iPhone announcements. This has led some to speculate that Apple will wait unti September or October to launch the iPhone 5.
Any later would cut into holiday sales, making a 2012 iPhone 5 launch unlikely. When it comes to the white iPhone 4, it sounds like Apple finally has a handle on manufacturing issues. Problems with light leaking into the camera through the white-painted glass back and color matching issues between the bezel and home button were just two of the issues cited. The process for painting and curing the iPhone 4 glass in white was also mentioned as a difficult one that was time consuming and didn't meet quality control standards.
Regardless, several white iPhone 4 models have been spotted in the wild. Presumably those with a white iPhone 4 know someone at Apple, and these sightings have fanned the flames of hype surrounding the device. If Bloomberg and the Wall Street Journal are talking to the right sources, pretty soon the white iPhone 4 will be in the hands of millions of consumers who are AT&T and Verizon customers.