Submitted by Bob Bhatnagar on
Finally the white iPhone 4 is back on Apple's promotional materials, signaling that the device has not been canceled or abandoned indefinitely. Photographs of Apple Store posters clearly indicate that the iPhone 4 will be available in black or white starting in spring 2011.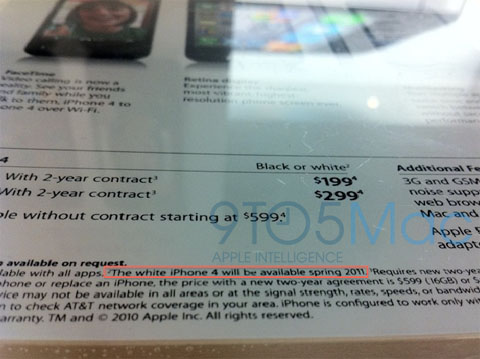 A more specific release date for the white iPhone 4 has not been revealed by Apple, however spring 2011 places the white iPhone 4 launch sometime after March 20. Apple has removed pre-ordering information for the white model from its online store.
Apple first offered a white iPhone with the release of the iPhone 3G. The company expected to release a white iPhone 4 alongside the black model from the beginning, but production problems caused delays. Reports have pointed to mismatched colors between painted glass and the plastic home button, technical difficulties with light leakage into camera sensors, and even difficulties engineering the opaque white glass panels for the back of the iPhone.
Lately Apple has been accused of secretly canceling the white iPhone, since the company has remained silent on the issue. Should the white iPhone 4 come out in spring as promised by the Apple Store poster, it won't be long until the iPhone 5 launches in summer 2011. It's possible that consumers who have waited for the white model will continue to wait a few more months to get the latest device.
In the meantime, plenty of solutions are available online to make your iPhone 4 white now. You can buy replacement parts or just order a white case. Sites will even take your handset, paint the device, and send it back to you in your favorite color. Several white iPhone 4 devices have been spotted around the country, so it's clear that Apple has a limited supply already in circulation. Only four more months until the white iPhone 4 comes out for the masses.