Submitted by Frank Macey on
A teenager and his parents earned $130,000 selling white iPhone 4 kits, but they have also earned the privilege of being sued by Apple. The company filed a complaint against the owners of WhiteiPhone4Now.com for selling unauthorized conversion kits including leaked parts from the Foxconn factory in Shenzhen, China.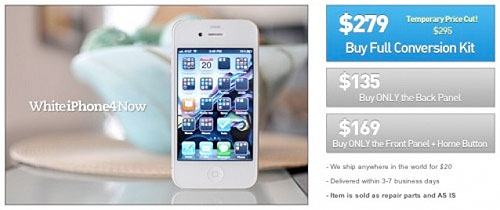 The site went down after Apple sent them a letter to cease and desist operations at the beginning of December 2010. Apple co-founder Steve Wozniak is one high-profile customer of the site who converted his own iPhone 4 to white using one of the bootleg parts kits. Apple filed a voluntary dismissal in court at the same time it filed the complaint.
The lawsuit against Lam states the following:
Defendent Lam willfully and without authorization has used Apple's trademarks in connection with the sale of his "White iPhone 4 Conversion Kits," which among other things included white front and back panels with Apple's logo and "iPhone" trademarks that are used in connection with the promotion and sale of Apple's well known iPhone 4 handheld mobile digital electronic devices. Defendant at all times knew that Apple never has authorized the sale of white panels for its iPhone 4 mobile devices, and that he obtained these panels from sources that were not authorized by Apple or any of its suppliers to sell them.
It's not clear why Apple immediately moved to dismiss the lawsuit once it was filed. It's possible that the New York family settled with Apple outside of court. Apple asked for a permanent injunction preventing the family from selling any more Apple parts, financial retribution and reimbursement for legal fees, as well as forfeiture of profits from the illicit white iPhone parts trade.
WhiteiPhone4Now.com sold front and back white panels for user installation on the iPhone 4 at $169 and $135 respectively. Both panels were running $295 until Lam decided to run a sale and offer the full kit for $279. The business was a smashing success as there was pent up demand for the delayed white iPhone 4. Apple finally solved manufacturing issues with the device and released the official version in late April.