Submitted by Bob Bhatnagar on
Leaked screenshots of Best Buy inventory listings indicate that the long-awaited white iPhone 4 could finally be making its way to consumers. The images show 16 and 32 GB white iPhone 4 models with in-stock dates of February 27, 2011.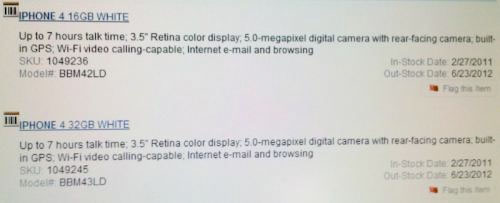 SKU and model numbers on the listings match those previously used by Best Buy when it was taking pre-orders for the white iPhone 4. Apple then scuttled the white model launch amid production difficulties.
Apple has been silent on the issue for months, with the last official statement being that the white iPhone 4 was coming in spring 2011. Some had expected a white iPhone 4 to launch with the Verizon iPhone, however there's no indication yet that Verizon is offering a white model. The Verizon iPhone becomes available to pre-order for existing Verizon customers on February 3, with general availability coming one week later.
Apple promotional materials have recently confirmed a white iPhone 4 spring release date, although some still believe that Apple has abandoned the white iPhone 4 and will jump directly to the iPhone 5 product launch. iPhone users have resorted to buying accessories to change the look of their phones and even buying unofficial white replacement iPhone parts to modify their handsets.
Reports have described a complicated production process, with manufacturers having difficulty meeting Apple's standards for the white model. Issues with white paint not properly adhering to the glass back of the iPhone 4 and light leakage problems around the rear camera have both been cited as reasons for the delay. Some have even said that Steve Jobs himself wasn't happy with a mismatch in color between the white home button and exterior of the iPhone 4. Whatever the reason, those waiting for a white iPhone 4 may finally get their wish next month.