Submitted by Bob Bhatnagar on
Apple officially released the iOS 4.2 update today at 10AM PST. iPhone 4 owners get a special surprise in the latest operating system, free Find My iPhone service. The feature makes it possible to locate your lost iPhone using maps on the web. Previously the service required a paid MobileMe subscription to use.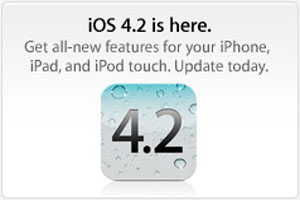 iPhone 3G owners are anticipating significant increases in speed and performance with the latest fixes and optimizations included in iOS 4.2. This version of iOS is the first to run across all recent iOS devices and will hit the iPad and iPod touch today as well. Several new features will come to the iPhone.
Two of the biggest additions will be AirPlay and AirPrint. AirPlay will facilitate live streaming from your iOS device to supported audio devices, speakers, televisions and more. Similarly, AirPrint is designed to make printing directly from your iPhone possible over a wireless network.
iPhone modem firmware is updated in iOS 4.2. If you're jailbroken/unlocked, be sure to check for instructions on how to proceed before you upgrade. The Dev-Team blog routinely warns against updating to official firmware via iTunes unless you want to wipe your jailbreak and unlock. The latest jailbreak software should work with iOS 4.2, however get the latest news before making an irreversible mistake.
Support for .ics calendar files is also coming to the device, which will allow automatic imports of event information and invites to the native Calendar app. New text tones and fonts in Notes are some of the more minor features, along with cosmetic changes. iOS 4.2 is free of charge. When you're ready, you can easily
update your iPhone with iTunes
today.