Submitted by Bob Bhatnagar on
Some iPhone owners who jumped to install the iOS 4.2 firmware update yesterday were greeted with an unwelcome surprise. Media including music, audio books, podcasts and videos disappear after the update is complete. iTunes still displays the storage space occupied by the media files, but they are nowhere to be found on the iPhone.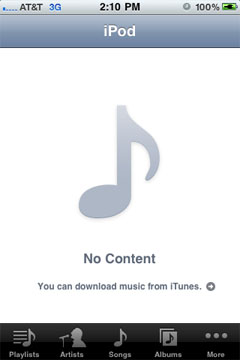 Opening the iPod app simply says "No Content" and re-syncing with iTunes does not bring back the media library! Apparently something was overlooked by Apple, but lucky for iPhone owners the bug fix is quick and easy. Your music files are hidden but still stored on the device. Don't restore your iPhone or take drastic measures, just follow these simple steps:
1. Open iTunes on your computer and connect your iPhone to the USB.
2. When your iPhone appears in iTunes, select it from the Devices menu on the left side of the iTunes window. Click the arrow next to the iPhone icon and list of media should appear.
3. From this list, click Music and then choose a song stored on your iPhone to play in iTunes. After you play the song for a few seconds re-sync the iPhone (no files will actually be transferred).
4. Disconnect your iPhone and open the iPod app. The media library will be rebuilt and you're back to normal operation.
This workaround should hold over most users who run into this minor bug. Assuming the problem only happens during the update to iOS 4.2, the missing music bug shouldn't reappear. Apple routinely corrects these problems in interim updates. Since the issue is more of an inconvenience than a serious security or functionality issue Apple may wait until other bugs are discovered and fix them all in one update down the line.