Submitted by Bob Bhatnagar on
Apple is offering several one-day special deals in its online store this Cyber Monday, the big online shopping day marking the first Monday after Black Friday. The Apple Store has a special section titled Merry Monday listing all the deals.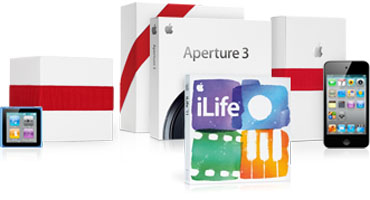 Free signature gift wrapping on specific items (while supplies last) is also offered for one day only. Of course, the Apple Store always offers free shipping with purchases over $50. If you're looking for a deal on that new Mac, you'll have to look elsewhere, as the list of Merry Monday deals focuses on iPad, iPhone, iPod and Mac accessories only.
Most of the discounts amount to roughly 10 percent of the normal sales price. Not bad if you're in the market for one of these items:
Beats by Dr. Dre Solo HD Headphones, deep bass folding headphones: $20 off (now $179.95)
Beats by Dr. Dre Beatbox, iPod/iPhone speaker dock: $40 off (now $359.95)
Edifier Prisma E3350 2.1 Speakers, subwoofer and two-way satellite speakers: $13 off (now $116.95)
Panasonic HM-TA1 HD Video Camera, 1080p HD video: $17 off (now $152.95)
M-Audio KeyStudio 49, GarageBand keyoard: $30 off (now $69.95)
G-Technology Mobile Hard Drive, matches the Mac: $10 off (now $89.95)
Michael Kors iPad Case, Apple Store exclusive leather iPad case: $13 off (now $116.95)
Twelve South Compass Portable Stand for iPad, picture stand: $4 off (now $35.95)
Michael Kors Wallet Clutch, Apple Store exclusive iPhone wallet: $8 off (now $71.95)
Cole Haan Zip Wallet, Apple Store exclusive fits iPhone: $13 off (now $116.95)
Kenneth Cole Messenger Bag, Apple Store exclusive: $13 off (now $116.95)
Kate Spade Notebook Carrying Case, for MacBook and iPad: $35 off (now $404.95)
For more information or to take advantage of these one-day deals head over to the Apple Store.