Submitted by Bob Bhatnagar on
Apple's iOS App Store just keeps getting bigger. The unstoppable torrent of mobile apps available via iTunes has soared to more than 350,000 titles, with 60,000 of these specific to the iPad. Apps are divided amongst 20 different categories and available for download in 90 countries worldwide.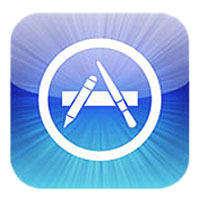 The App Store just surpassed 10 billion individual software downloads since its initial launch in July 2008. In fact, this amounts to a whopping 18 million average downloads every day the App Store has been in operation. Assuming there are roughly 160 million iOS users, each iPhone, iPad or iPod touch owner has acquired an average of 62 apps for their device.
One lucky customer named Gail Davis from the UK downloaded Paper Glider, which turned out to be the 10 billionth app. Apple is giving this countdown winner a $10,000 iTunes gift card. Now that's a lot of apps!
Philip Schiller, Apple's senior vice president of Worldwide Product Marketing was quoted in an Apple press release:
With more than 10 billion apps downloaded in just two and a half years—a staggering seven billion apps in the last year alone—the App Store has surpassed our wildest dreams. The App Store has revolutionized how software is created, distributed, discovered and sold. While others try to copy the App Store, it continues to offer developers and customers the most innovative experience on the planet.
Apple has over 100,000 developers in the App Store developer program, with each paying $99 per year for the privilege. The company also gets a 30% share of each app sale. Apple refuses to discuss App Store revenue details, however it was estimated that the store made up to a few hundred million bucks just in its first year.