Submitted by Bob Bhatnagar on
Need a ringtone on the fly? If you don't mind spending money for a 30-second ringtone, Apple has you covered in iTunes. The latest iOS 4.3 release is the gold master and this firmware brings ringtone purchasing to the foreground. The update will be available to AT&T iPhone users starting on March 11, 2011.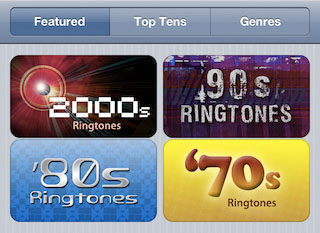 Currently if you're interested in buying a ringtone from Apple, you have to find the ringtone collection within the iTunes app. To navigate there now and preview ringtones you must open the iTunes app, select More from the bottom menu and choose Ringtones. Not difficult, however many iPhone users forget the feature is even an option.
Changes to the iOS 4.3 firmware will change the Sounds menu to include access to the Apple ringtone store. Here's how it works on the iPhone 4: navigate to Settings -> Sounds -> Ringtone -> Buy More Tones. You will be instantly transported to a long list of pop favorites already converted to 30-second ringtones. Should you buy a ringtone, there's no syncing required to use your new ringtone immediately.
Of course, there are many apps out there that create custom ringtones and several ways to go about creating your own ringtones as well. Using the built-in link to ringtones on iTunes is certainly convenient but be prepared to rack up charges on your iTunes account to the tune of $1.29 a pop. The change in the Sounds menu has appeared on the iPhone 4 running iOS 4.3 and is likely to appear on the iPhone 3GS. We'll keep our eyes out for other hidden gems coming to iOS 4.3 that help to refine Apple's mobile operating system on the iPhone.
[ via
Cult of Mac
]