Submitted by Marshall Walker on
With a little help from their parents unborn children can now choose their own names by using the Kick to Pick app. This is how it works:
You simply create a list of your favorite baby names by selecting from thousands of potential choices, place your iPhone, iPod touch or iPad over the mother's stomach, activate the countdown switch, and watch as your baby kicks to pick its name.
You can either choose to accept the suggestion or ignore it and make the baby pick again. I guess it's never too early for your child to learn that you don't always get what you want in life, but you will only have yourself to blame if he or she comes out of the womb a little PO'd.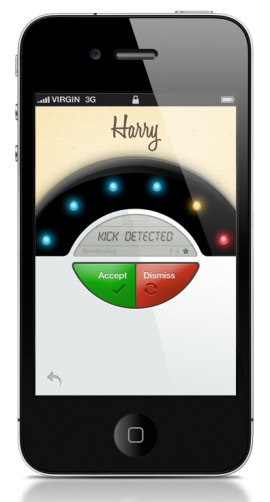 Kick the Pick founder Nathan Parks said the idea came from a discussion about baby choices, and how they have no say in their own names. "What started out as a light-hearted chat soon turned into a series of app ideas," Parks said. "We're delighted with the finished product we've designed. It's light-hearted, good fun and a great way to involve the whole family in what is a key milestone of a child's life."
Maybe he can start work on an app that lets the baby pick its gender. Then there would truly be an app for everything.
Kick the Pick is available in the App Store for 99 cents.