Submitted by Marshall Walker on
Apple is now offering unlocked iPhone 4 models in the Apple Store. "Unlocked" means you can use AT&T or T-Mobile's network in the US without having to sign a two--year contract with either carrier. Unlocked doesn't mean "jailbroken," you still have to buy apps and receive software updates through Apple via iTunes. Another catch is that the unlocked iPhone doesn't support T-Mobile 3G download speeds and won't operate on Verizon or Sprint at all.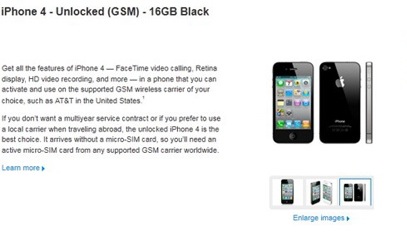 To be clear, the iPhone will "work" on the T-Mobile network, meaning it can be used. However, you'll be stuck on the slower EDGE network, which most individuals will find practically unbearable. When given the option of a brand-new Android smartphone on T-Mobile's 3G and 4G network, you'd be hard pressed to find a compelling reason to use an unlocked iPhone on EDGE, regardless of how much we all love the iPhone.
This is the first time Apple has offered unlocked GSM-compatible iPhones in the U.S.. The unlocked 16GB version is priced at $649 with the 32GB selling for $749. The phones are available in white or black and will ship in one to three business days.