How do I save / dial an extension on the iPhone?
The iPhone will store and dial extensions to phone numbers in a couple of different ways, depending on how you decide to interact with the answering system on the other end. Entering the extension into your Contacts is simple. When you finish entering the last digit of the main phone number, tap the +*# button in the lower left corner of the dial pad. Two options are given: pause and wait.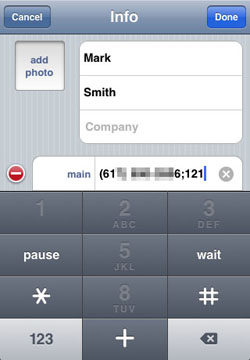 The example above shows a semicolon, which appears when the wait option is selected. Pause will add a comma. After choosing pause or wait enter the extension and save the contact.
If you're not sure how long you need to wait before dialing the extension, the wait option will provide a button like the one pictured below. Tap this button at the appropriate time to dial the extension.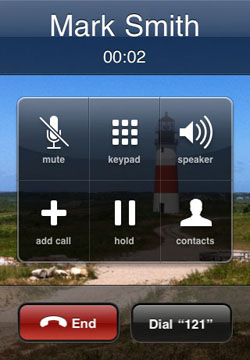 For numbers that you already know need a certain amount of time before entering the extension you can dial the extension automatically. Using the pause option means the iPhone will call the main number, wait a while then dial the extension with no further input from you. To add a longer pause, simply tap the pause button more than once to add more commas when saving the phone number.