Submitted by Marshall Walker on
If you're lucky enough to be attending Super Bowl XLVI you'll probably want to grab the NFL's SB XLVI Guide. The free app contains detailed information about local restaurants, nightlife and official Super Bowl events. You can also use the 3D map of Lucas Oil Stadium to find your seat and locate parking. If you're not Indianapolis bound you can still download the Super Bowl XLVI Official NFL Game Program. It's essentially the same program you would receive if you attended the actual game, but with extra digital content. It features over 400MB of exclusive NFL video and chronicles the Giants' and Patriots' road to the championship. The app is free for the iPad only and requires a lot of space to download.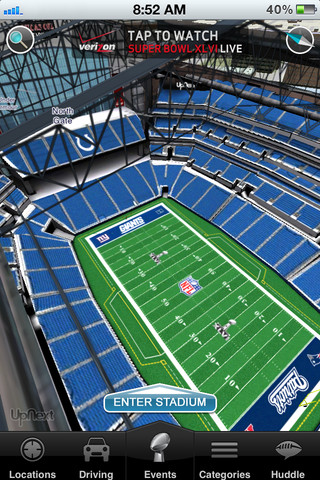 NFL Pro Tweets by the NFL Players Association allows you to follow what the pro players are tweeting about the game. You can also follow all the other Super Bowl social media buzz with the SB XLVI app I mentioned above.
Super Bowl Winners allows you to brush up on your past Super Bowl knowledge. The free version gives you a detailed history of every Super Bowl ever played with the ability to upgrade to the full Professional Sports History version. The $1.99 version offers a complete history of every MLB, NBA and NHL championship ever played.
I don't know why you would want to pay $1.99 to watch commercials, but if you're a fan of Super Bowl ads there is an app for that too. Super Ads: Super Bowl Commercials features over 200 popular Super Bowl ads and will be updated with the newest from this year.