Submitted by Marshall Walker on
Version 5.0 of the iPhone and iPad Facebook app has finally landed in the app store! Facebook has rebuilt the app from the ground up making it much faster. The app now launches immediately and the news feed and photos load a lot more quickly.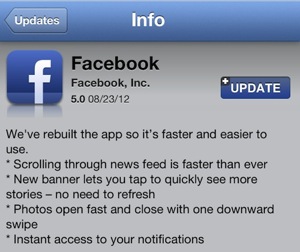 The new app allows you to easily scroll through your news feed without having to refresh, and now features notification banners for recent posts. The app doesn't look any different, but you will immediately feel the changes the first time you use it. Facebook did not add the must asked for "Share" button featured on the web version.
If you were avoiding, deleted or are currently using the old version of the iPhone and iPad app I suggest giving version 5.0 a try. It's a great improvement! The Facebook app is free for all iOS devices via the App Store.