Submitted by Marshall Walker on
The original photo sharing site for Twitter is now available as an app for the iPhone, iPad and iPod touch with an Android app soon to follow. The TwitPic iOS app may seem a little late, but it does come after Facebook's $1 billion Instagram acquisition.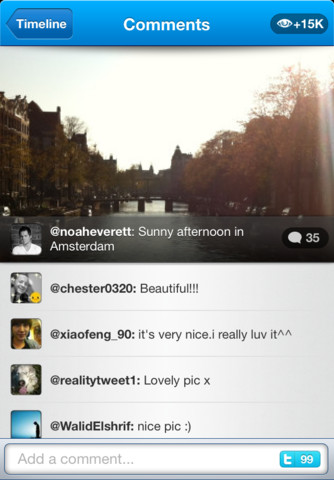 The TwitPic app allows you to share, browse and edit your photos from any iOS device. Here are the complete release notes:
Quickly and seamlessly share your photos and videos with all of your Twitter followers
Edit your photos with beautiful filters and easy to use enhancement tools
Browse your Twitter photo timeline with photos from people you follow in a beautiful interface
Browse photos from the most popular Twitpic users
Manage your Twitpic photos and videos in your own timeline
TwitPic has around 35 million followers compared to Instagram's 50 million users. The site's founder Noah Everett is hoping TwitPic's loyal fans choose this app as their main photo sharing source for Twitter. The app is free to download from the App Store. It requires iOS 5.0 or later.