Submitted by Marshall Walker on
Facebook has launched a new mobile feature called Find Friends Nearby (previously named Friendshake) for iOS and Android devices. Users who navigate to http://fb.com/ffn using their phone's browser will be shown a list of other users within a certain radius who are also using the page. You can also access the feature from the Facebook iOS app by going to Menu > Apps > Find friends > Other Tools > Find Friends Nearby.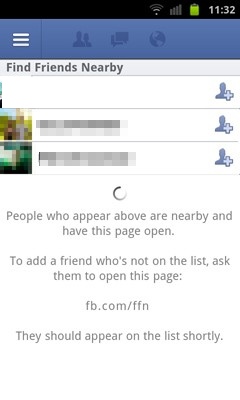 Find Friends Nearby allows you to easily add people you've just met in real life. Say you meet someone at a party. You can both access the Find Friends Nearby page, locate each other, then add each other as friends on Facebook. This saves you the hassle of using Facebook's search or having to spell out your email or name. I guess it can also be used like Chatroulette to meet new people.
This is kind of an odd feature for Facebook, who seem to frown upon people friending or stalking strangers. Perhaps that is why they haven't officially announced it yet.
[via Gizmodo]