Submitted by Anders Batten on
Pearl Jam have announced a new app for iOS devices. The Pearl Jam Official app for the iPhone and iPad allows fans access to music, news and merchandise. The app also features a Pearl Jam timeline, a digital version of the official Pearl Jam lighter, and Facebook, Twitter, Instagram and Youtube support.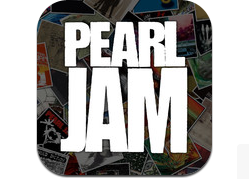 "The app was created to serve all Pearl Jam fans, but it also allows our official Ten Club members to log into their membership accounts on-the go," says Tim Bieman, Pearl Jam's Ten Club manager.
The official app description also promises future updates during the band's North American tour this fall. The app is currently free to download from the Apple App Store. The app supports the iPod touch, iPhone and iPad. It requires iOS 6 or higher.
Pearl Jam's tenth album Lightning Bolt is currently available for pre-order through Amazon and iTunes. The studio album will be available on October 15th.