Submitted by Bob Bhatnagar on
Thanks to MultiCleaner iPhone users no longer have to manually quit each application running in the iOS multitasking dock to free up RAM and improve performance. Not only does the $0.99 jailbreak tweak make it possible to set up custom Activator triggers to quit all apps, it offers customization for multitasking dock behavior.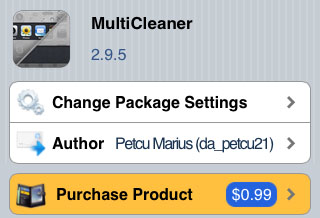 Apps can be pinned to the left side of the multitasking bar for quick access, and app icons can be rearranged within the multitasking bar. When apps are not running but have been recently opened, the icon appears darkened, while actively running background apps are normally displayed.
One great feature of MultiCleaner is that instead of tapping the home button to minimize an app to the multitasking dock, you can hold down the home button to quit the app completely. Setting up an Activator trigger makes it possible to quit all apps easily, for example by clicking the home button three times. This saves all the trouble of holding icons in the bar until they wiggle and tapping the red circle over and over again.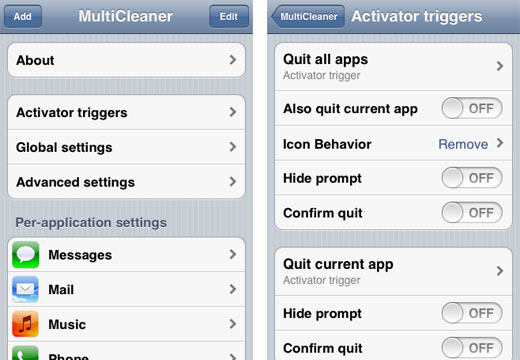 Once purchased and installed from Cydia, MultiCleaner will add an app icon to your home screen. It is here that you can customize all that MultiCleaner has to offer. App quitting, icon behavior, individual app settings and more can all be set to your liking from within the MultiCleaner app.
MultiCleaner can be found in Cydia under Tweaks, and was submitted to the BigBoss repository by Petcu Marius. The tweak requires a
jailbroken iPhone
running iOS 4 or later.