Submitted by Bob Bhatnagar on
Typing symbols or pictures on the iPhone just got easier thanks to a Cydia tweak called PictoKeyboard. The free software package temporarily replaces an unused international keyboard with unicode symbols that can be typed anywhere. Many of the symbols are similar to emoji icons, which can be installed without jailbreaking.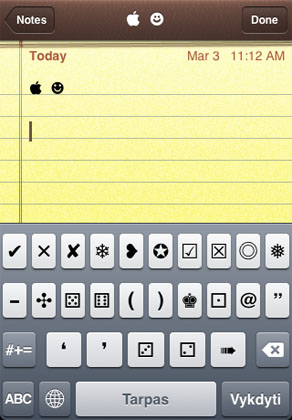 If your iPhone is jailbroken, the installation of PictoKeyboard takes place in just a few steps and provides an easy way to add unicode symbols including the ever-popular Apple logo. Additional symbol keys can be accessed using the numerical keyboard or pressing the shift button.
To install PictoKeyboard you must be running iOS 5 or later and have a jailbroken iPhone. The package can be found under Tweaks in the Cydia app store, or by using the search function. Activating the unicode symbols on your keyboard requires the following steps:
1. After the package is installed, navigate to Settings -> Settings -> Pictokeyboard
2. Tap Change from to choose which international keyboard you wish to replace with symbols
3. Select the Tap this after changes button
4. Navigate to Settings -> General -> Keyboard -> International Keyboards -> Add New Keyboard
5. Select the international keyboard you replaced with symbols
That's it! Now when you are using the keyboard in any app there's a globe icon to the left of the space bar. Tap this button to switch between keyboards and one of your options will be a collection of unicode symbols.