Submitted by Marshall Walker on
UPDATE: The tweak is now available in the BigBoss repo under CamFast.
iOS 5.1 adds a camera shortcut to your iPhone's Lock Screen. This is a great tool for non-jailbroken devices, but iPhone 4S owners who had to avoid 5.1 to keep their jailbreak are still stuck with the old Home Button option.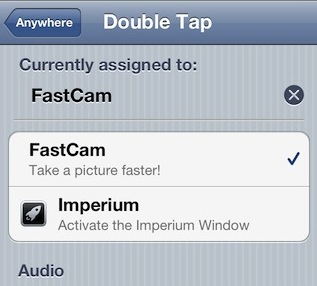 Just like the new icon, a new jailbreak tweak called FastCam allows jailbreak users easy access to their iPhone's camera from the Lock Screen. The tweak works with Activator actions like "Double Tap" from anywhere on your phone. Once installed, just choose the Activator option you would like to use, and you be able to quickly access your camera from any screen on your phone. FastCam can be slightly faster than the iOS 5.1 shortcut since you don't have to swipe up from the icon.
FastCam has not been made available to the public yet, but it should be ready for download from Cydia soon. The tweak is free and requires a jailbroken iPhone to work.
[via
iDownloadblog
]