Submitted by Frank Macey on
Now you can warp back to 1998 and take 1-bit photos on your iPhone, much like the Game Boy Camera of yesteryear. The images are saved directly to your camera roll in stunning 320 x 480 resolution black and white. Officially, that's more than 150 kilopixels, or by a more familiar measure 0.15 megapixels.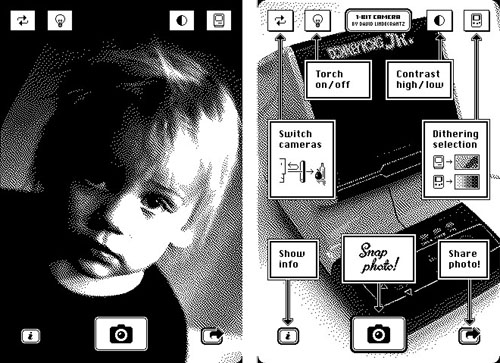 To get the image just right, there are high and low contrast modes and two dithering options. When it comes to dithering, you can choose Atkinson (used on the original Mac in 1984) and Bayer (Nintendo Game Boy) for two distinctly unique styles. The flash or front facing camera can be used for those with newer iPhones.
For $0.99 on the App Store, 1-Bit Camera is sure to bring back memories. You can share these memories with Twitter, Facebook or Tumblr, and even post your masterpieces to the 1-Bit Camera Community Photoroll.
Version 1.1 of 1-Bit Camera is already being reviewed by Apple for release and includes the following improvements:
Blast Processing = more responsive experience
Adaptive low-light auto-exposure
Load, enhance, save and share images from the iPhone photo roll
iPad support with retina pixels
1-Bit Camera is a welcome addition to the retro camera options available on the iPhone, harking back to the early days of digital imaging.