Submitted by Frank Macey on
It may not be the first time we've heard about Apple considering Near Field Communication (NFC) for a future iPhone, and it won't be the last. The technology has the potential to make paying for things as easy as passing your device near a wireless NFC cash register. Patently Apple has uncovered a recent NFC patent filed by the company in December 2011.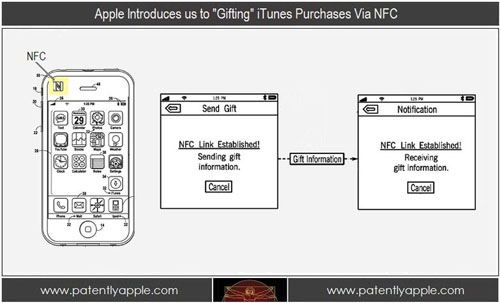 The premise of the patent is that iPhone owners could use NFC technology to easily share music with their friends or family. The process would work by allowing the user to wirelessly send a gift such as a song to a nearby iPhone. Sharing from the iTunes playlist would cost money, which would then be deducted from the gift giver's account.
The NFC connection itself would be used in this case to transmit gift access information directly from iPhone to iPhone, providing instructions and authorization to the recipient of the gift on how to grab the file. Apple's iOS devices would then communicate with the digital media provider to allow the download and work out the payment transaction.
Multiple files could be given in a single gift and personalized for the recipient. Of course, when NFC is not available files can be gifted using a similar process via email or with an electronic gift certificate containing all of the relevant information. There have been many NFC patents filed by Apple, leading some to speculate that the company is ready to launch this technology on the next generation iPhone. Some have even called this functionality on the next iPhone the iWallet.
Should Apple provide its millions of iTunes users with NFC on the next iPhone, the company could take command of billions of daily transactions, including sending gifts to someone nearby.