Submitted by Frank Macey on
More evidence is mounting that the next iPhone will feature a 4-inch diagonal screen, leaving room for another row of app icons. Not only this, but the device is said to be 10mm taller than the current iPhone 4S form factor. Reports of a metal back on the iPhone 5 have also been rumored.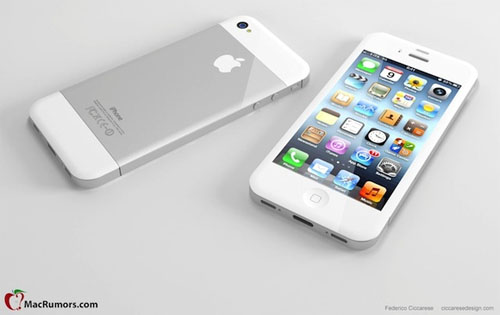 Of course, Apple could still be finalizing which prototype to put into production. Regardless, MacRumors has taken the next step, and commissioned Ciccarese Design to produce the high quality rendering above.
Should this be the next iPhone, there's only one hitch. The taller screen would change the aspect ratio of the display, throwing off older apps that are designed for the 4:3 existing iPhone screen. The iPhone display hasn't changed size or shape since the original iPhone was launched in 2007. Some reports describe an edge-to-edge 4-inch display that would retain the existing aspect ratio, shrinking the bezel and leaving the width of the iPhone unchanged.
The metal panel is a nice touch, however there are conflicting reports over whether or not Apple will move away from the existing glass back on the iPhone 4S. Thanks to leaked iPhone 5 parts, it certainly looks like Apple is planning a significant redesign for their next smartphone. Industry watchers are expecting Apple to reveal iOS 6 features at WWDC next month, leading up to a possible late summer iPhone 5 launch.