Submitted by Marshall Walker on
Cricket Wireless has launched the first pre-paid iPhone in the U.S. this weekend. Circket is offering a 16GB no contract iPhone 4S for $500, and an 8GB iPhone 4 for $400. AT&T, Sprint and Verizon offer the 16GB iPhone 4S for $200 with a two year agreement. A pre-paid Cricket iPhone also comes with a $55 unlimited calling and text messaging plan with 2.3GB of data.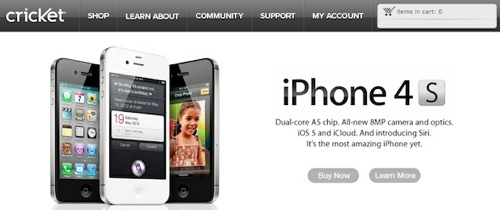 A Cricket representative told CNET that the phone is available at their retail stores and select dealers. The rep also claimed that they are experiencing "brisk" customer activity.
Cricket covers around 60 million Americans compared to AT&T' and Verizon's 300 million.
Head on over to Cricket's Store Locator if you're interested in buying a no contract iPhone 4 or 4S.