Submitted by Frank Macey on
Believe it or not, there's a new project in town that intends to put your iPhone on the front lines of personal defense. The Yellow Jacket is designed as the first iPhone case to pack a 650K volt stun gun on board. With all of that extra juice, the case also provides an extra 20 hours of battery life for your mobile device.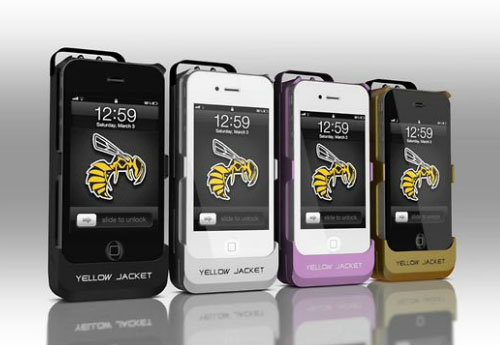 Safety features are built in to ensure you don't get zapped while playing Angry Birds, but if you need to incapacitate an attacker, firing up the stun gun takes less than a second. Flip a safety switch and turn down the cap to expose the electrodes at the top of the case. Pressing the activation button will send 650K volts coursing through anyone unlucky enough to be touching the contacts.
The Yellow Jacket is designed for iPhone 4 and iPhone 4S models, and when installed the total thickness of the case is one inch. The case also adds about 3/8-inch to the height of the iPhone. Total weight with the iPhone and Yellow Jacket is just 8 ounces. The case will protect your iPhone from impacts and does not need to be removed to charge the device via the 30-pin dock connector.
As of this writing, the Indiegogo project has raised $5,921 towards its goal of $100,000 to start production of the Yellow Jacket. There are 19 days remaining to claim your Yellow Jacket at the early bird price of $85. Once 100 have been reserved, the price goes up to $100. Just keep in mind the Yellow Jacket may be the first iPhone case that will be subject to legal restrictions, with stun guns being illegal in some jurisdictions.