Submitted by Chad Shmukler on
Shares of both AT&T (T) and Apple (AAPL) fell today based on news from AT&T that it activated only 146,000 iPhones in the first two days of the iPhone era, June 29th and June 30th. Though AT&T shares closed down only $0.35, Apple shares slid a whopping $8.81 or 6.13 percent.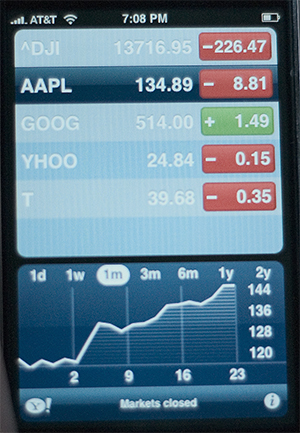 Investors were shocked at the low activation total, as some analysts had estimated that Apple sold as many as 700,000 iPhones during it's opening weekend. Despite the lower than expected numbers, AT&T assured investors that all was well with AT&T, Apple, and the iPhone. Still, despite the fact that 40% of the iPhone activations AT&T reported were new customers, AT&T slid for the day.
Most likely, investor worry over AT&T's activation numbers is misplaced. One of the most important details to notice about AT&T's activation report, is that it omits one day of the iPhone's opening weekend - Sunday, July 1st. Many of you will recall that very large numbers of customers who arrived home with their iPhones were unable to activate their phones due to technical issues and backlog experienced by AT&T and Apple.
Chances are high that most of the iPhones purchased on opening weekend were not activated by AT&T until that Sunday, which fail to make the recently report AT&T activation statistic.