Submitted by Marshall Walker on
As promised AT&T rolled out its new Mobile Share data plans on Thursday. The new plans are designed to help new and existing subscribers share data on up to 10 devices. Existing customers do not have to switch to a Mobile Share plan, but can do so without a contract extension if they choose to.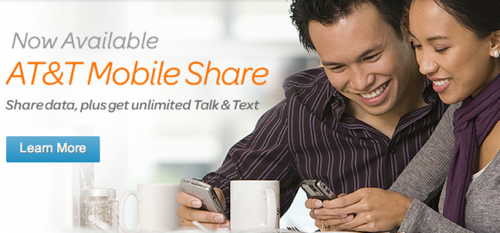 The Mobile Plans start at $40 for 1GB of data with unlimited talk and text. You can add an additional smartphone for $45, basic phones cost an additional $30, additional laptops and mobile hotspot devices cost $20, and tablets and gaming devices are $10 each per month. At least one smartphone is required to be part of an AT&T Mobile Share group. You will of course need more data for each device you add, so plans range from 1GB to 20GB of data. The price of an adding an additional smartphone does decrease until you hit the 10GB tier.
Not all AT&T subscribers will benefit from a Mobile Share program. You can use the AT&T Mobile Share Planner to see if the new plans work for you.