Submitted by Chad Shmukler on
As there are countless aftermarket sources for iPod batteries, it stood to reason it was only a matter of time until third party sources of iPhone batteries started showing up.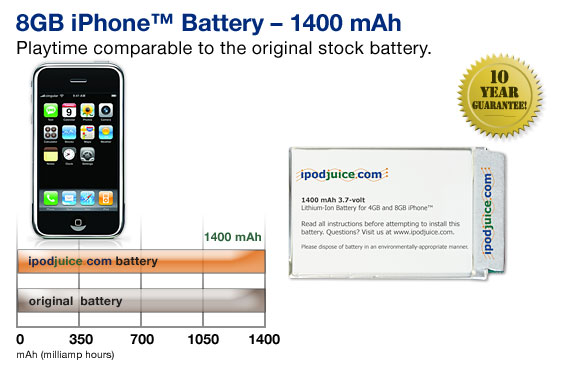 The first aftermarket iPhone battery to cross our radar has shown up, from San Antonio, TX company iPodJuice. According to the company, the replacement battery offers the same strength as the original iPhone battery and is 100% compatible with the phone.
Depending on how brave you are when it comes to replacing your iPhone battery, you can get your hands on one of iPodJuice's batteries for as low as $25. To be clear, this means you'll be ordering the battery alone from iPodJuice and will have to crack open your iPhone case, unsolder you old battery, and solder in the replacement. Our guess is, very few people are going to want to do that.
By throwing in some extra cash (at least $20 more), iPodJuice's "experienced technicians" will do the dirty work for you. They'll replace your battery and
ship it back out to you the same day it arrives at their offices.
Once you start selecting their various shipping options ($20, $40, and $70), battery replacement starts getting to be almost as expensive as having Apple perform the service. iPodJuice attempts to offer a benefit over the Apple battery replacement even at equal price points by guaranteeing the batteries they sell for 10 years, claiming that "the last iPhone battery that you will ever have to buy."