Submitted by Bob Bhatnagar on
The early reviews are in, and Apple has some work to do on its new iOS 6 Maps application. Highly-touted features such as turn-by-turn directions are no doubt an upgrade, however there are other things that will be missed by fans of Google Maps. As pretty as those 3D Flyover graphics may look, basic functionality is said to have suffered, especially overseas.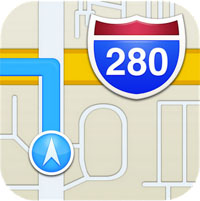 Apple replaced the Google-based back end of the Maps application with its own alongside the launch of iOS 6. One big complaint from users in urban areas is the lack of transit directions. Instead of detailing options to take public transit, the new Maps simply offers a list of third-party transit apps installed on your device.
Early adopters of iOS 6 have also noted that walking directions are not as robust as they were using the Google-backed maps app. When it comes to walking, there's another feature that is absent from Apple's maps in Street View. iPhone users were previously able to take a look at building facades, preview walking and driving routes, and check out landmarks with this feature. Luckily, third-party apps that access Street View are available such as iFindView and StreetViewer.
Issues with Local Search have also been apparent in the new Maps. Without Google's data, search results are just not as complete as what iPhone owners have become accustomed to in iOS 5 maps. Users in some other countries are having an even tougher time, with fewer local search results, and a lack of real-time traffic information that was all there before.
As if this weren't enough, other users have pointed out that some of the satellite map details and even place names used by iOS 6 Maps are inferior to those used by Google. Apple is sure to invest much time and energy into improving their Maps application over the coming months and years. The question of the moment is whether or not Google will step up and release a stand alone Maps application of its own for iOS 6. In the meantime, the Google+ Local app and the web based version of Google Transit will have to suffice.