Submitted by Bob Bhatnagar on
As owners of older iPhone hardware are painfully aware, the iOS 6 update is limited on A4 devices including the iPhone 4 and iPhone 3GS. Some of the features that iPhone 4S and iPhone 5 users enjoy include turn-by-turn navigation and 3D Flyover maps in major cities. Well now thanks to a new jailbreak tweak you can unlock full iOS 6 maps capability on a jailbroken iPhone 4 or iPhone 3GS.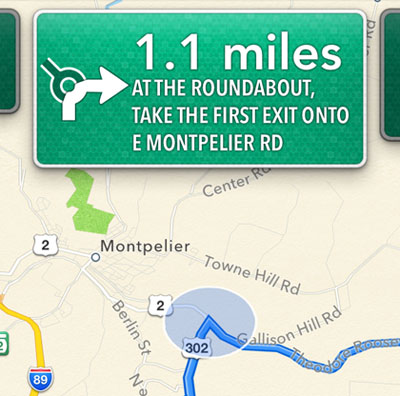 Apple made iOS 6 available on these older devices, however the company intentionally limits some features to keep performance optimized. That being said, iPhone 3GS users who are interested in turn-by-turn directions are turning this feature on at their own risk. Sluggish performance could occur because the iPhone 4S and iPhone 5 hardware is significantly more powerful than the iPhone 4 and 3GS. Even though you can run iOS 6 maps on your device with this tweak, it could be slow or use up too much memory to function.
Aside from the disclaimers, credit for making this functionality available to owners of older iPhone hardware goes to developer Ryan Petrich. Of course, first you must jailbreak your iPhone 4 or 3GS and install Cydia. To get the tweak, open Cydia and find the package Unlock iOS 6 Maps on the Big Boss repo. You can download and install the package free of charge.
There are no options to configure once the tweak is installed, it will simply unleash all of the latest features of iOS 6 maps on your device. If the turn-by-turn navigation or 3D Flyover maps are dragging you down too much, you can uninstall the tweak in Cydia to remove this functionality.
The iOS 6 jailbreak on the iPhone 4 and 3GS is currently tethered using the latest version of redsn0w. Reports have indicated that no iOS 6 jailbreak for the iPhone 5 are actively under development.