Submitted by Marshall Walker on
Apple's Maps manager Richard Williamson was fired after flaws in the mapping software "hurt" the iPhone 5, according to Bloomberg. Senior Vice President Eddy Cue fired Williamson, who oversaw the Apple Maps development, on Tuesday. Unnamed sources familiar with the matter told Bloomberg Cue is planning to "install a new leadership team" to oversee the Maps application, and is seeking advice from outside mapping-technology experts TomTom NV.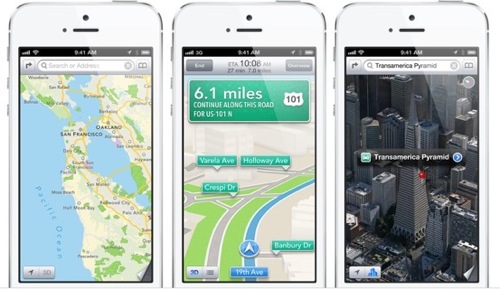 Apple has been criticized for ditching Google Maps for its own inferior mapping software. The Maps debacle didn't hurt iPhone 5 sales, but it did force Apple CEO Tim Cook to issue a rare apology for an Apple product. The Apple Maps mess also prompted Nokia and Google to create rival mapping apps to be used with iOS devices. Nokia's HERE app is already available for download, while Google is expected to unveil its map application in the near future.
Williamson replacement has not been announced, but whoever it is, will oversee an Apple team who has been working to fix the mapping mistakes.
"A team at Apple has been working to fix the mapping mistakes, focusing first on some of the most glaring problems, one person said. The satellite imagery over the U.K. has been improved and labels for popular U.S. landmarks such as the Washington Monument have been corrected."
Apple also recently fired Scott Forstall as part of a management overhaul. Cue has been put in charge of fixing the maps application, and overseeing Apple's iTunes, App Store, iCloud and Siri.